Meet our Staff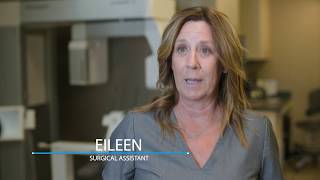 Eileen:
I have been dental assisting for 27 years and it has been extremely rewarding.  On my spare time I enjoy hiking, biking and spending time with my four amazing grandchildren.
Sharon:
I have been an oral surgery assistant for 20 years.  I began my career in general dentistry.  After moving from Wisconsin to Arizona, I obtained my certificates for Oral and Maxillofacial surgery assistant (ACLS).  Working in the dental field has been a rewarding and challenging career.  In my free time I enjoy reading, hiking and tole painting.
Marie:
I have been working in the dental industry for 15 years.  I love being able to greet patients and always make them feel welcomed.  On my free time I enjoy supporting and witnessing my husband and two teenagers train and compete in different forms of martial arts.  I love going to the movies with my family, read a good book, workout, listen to music and always looking to try new vegan food!
Ruth:
I started my dental career in California as an Oral Surgical Assistant 28 years ago and moved to Arizona in 2004. My eagerness to learn all aspects of the dental field has taken me to experience every position there is in the field: surgical assistant, billing coordinator, patient advocate and office administrator. I take great pride on what I do and I am committed to make it a great experience for our patients' from beginning to end. In my spare time I enjoy spending time with my children, family and friends, and love to travel.
Ready to Improve Your Smile?
Call us with any questions or to make an appointment.