Oral Surgeon Phoenix AZ
Our Practice Philosophy
As an oral and maxillofacial surgeon,
Dr. Butura
manages a wide variety of problems relating to the mouth, teeth and facial regions. At Butura Oral & Dental Implant Surgery we perform a full scope of oral and maxillofacial surgery with expertise ranging from
Dental Implant
Surgery and
Wisdom Tooth
Removal. This also includes techniques designed to rebuild bone structure with minimal surgical intervention and optimal patient comfort.
Enjoy our introductory video! >>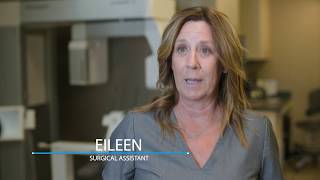 Dental Implants
Dental implants are designed to provide a foundation for replacement teeth which look, feel and function like natural teeth. The person who has lost teeth regains the ability to eat virtually anything, knowing that teeth appear natural and that facial contours will be preserved.
What are Dental Implants?
The implants themselves are tiny titanium posts, which are inserted into the jawbone where teeth are missing. These metal anchors act as tooth root substitutes. They are surgically placed into the jawbone. The bone bonds with the titanium, creating a strong foundation for artificial teeth. Small posts are then attached to the implant, which protrude through the gums. These posts provide stable anchors for artificial replacement teeth.
"They're my teeth! I have my teeth back! Dr. Butura and his staff are family to me now. I don't know if I ever would have done this without them."
-Angie
Wisdom Teeth, Why Should I Remove Them?
Wisdom teeth are the last teeth to erupt within the mouth. When they align properly and gum tissue is healthy, wisdom teeth do not have to be removed. Unfortunately, this does not generally happen. Extraction is necessary when they are prevented from properly erupting within the mouth. They may grow sideways, partially emerge from the gum and even remain trapped beneath the gum and bone. Impacted teeth can take many positions in the bone as they attempt to find a pathway that will allow them to erupt successfully.